Comet probe detects the «most wanted molecule»
March 20, 2015 - ESA's comet probe Rosetta has for the first time ever measured nitrogen gas at a comet, providing clues to the early stages of the formation of our solar system.
The measurement was made possible thanks to the high mass resolution of the ROSINA/DFMS mass spectrometer, for which the Belgian Institute for Space Aeronomy together with imec and OIP built most of the detector assembly.
The study was led by researchers at the University of Bern and has now been published in the journal «Science».
Complete article about the first nitrogen detection on a comet
Lecture: Rosetta and comet sciences (in French)
Tuesday 24/02/2015 at 17h00: Cours-conférence: Rosetta et la science des comètes par Johan De Keyser & Emmanuel Jehin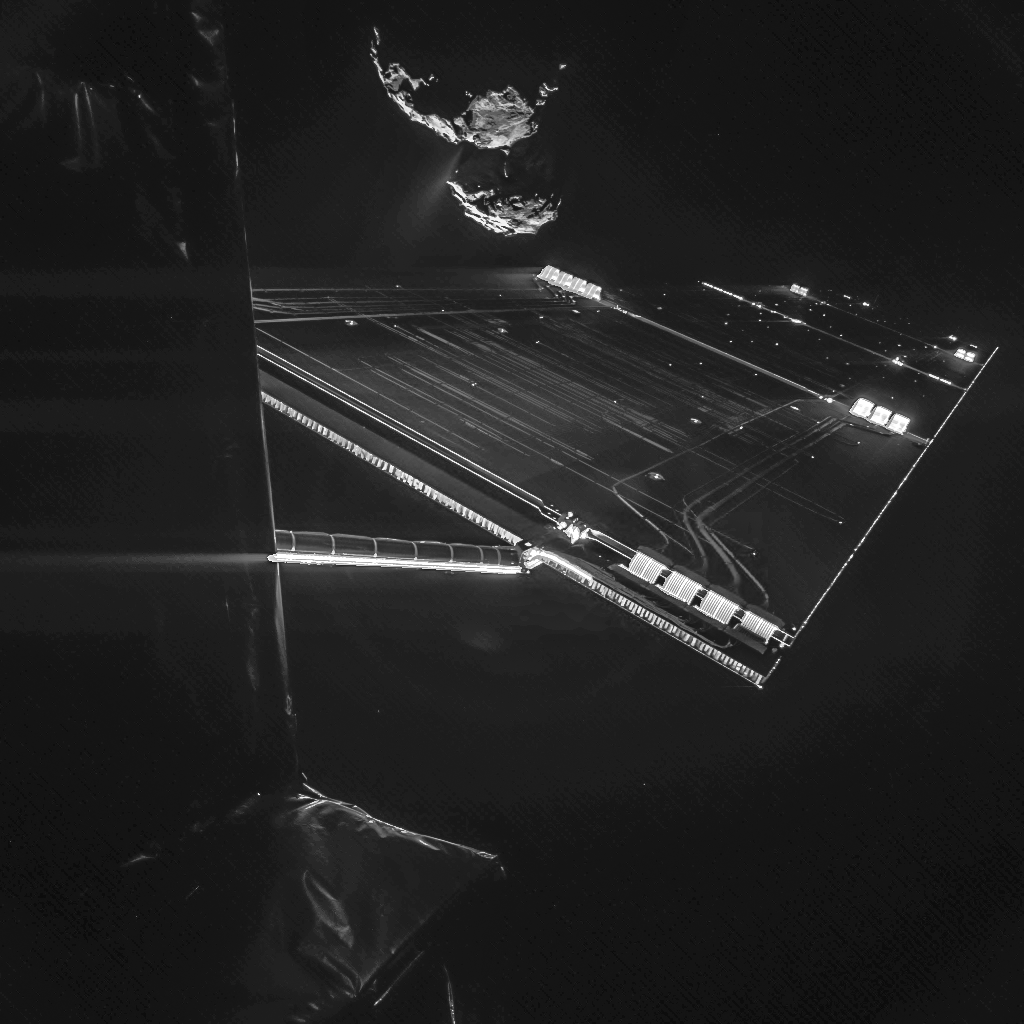 Les objets gelés dans le système solaire attirent beaucoup d'attention : comme des fossiles, ils conservent des renseignements sur l'origine du système solaire.
Ils contiennent du matériel réfractaire (des roches) et de la matière volatile gelée (des glaces). Les comètes se trouvent dans les régions les plus lointaines de notre système solaire...
Lieu:
Palais des Académies Immeuble Écuries royales
Rue Ducale 1, 1000 Bruxelles
Détails sur www.academieroyale.be
Catching A Comet in Science Magazine
23 January 2015 - In August 2014, the European Space Agency's Rosetta spacecraft arrived at comet 67P/Churyumov-Gerasimenko. Once in orbit, it swooped as low as 10 kilometers to get unprecedented data from the comet (and to drop off its short-lived Philae lander). Today, Science Magazine is publishing a suite of new papers detailing some of the mission's first findings.
BIRA-IASB scientists are involved with their analyses of data coming from the ROSINA instrument that measured the coma composition of comet 67P.
These measurements show large fluctuations in composition in a heterogeneous coma that has diurnal and possibly seasonal variations in the major outgassing species:
water
carbon monoxide
carbon dioxide
Other new findings suggest a wide range of deuterium-to-hydrogen (D/H) ratios in the water within Jupiter family objects (based on measurements around the Jupiter family comet 67P) and preclude the idea that this reservoir is solely composed of Earth ocean–like water.
Science Magazine, 23 January 2015 vol 347, issue 6220, pages 349-452
Activities 50th anniversary of the Belgian Institute for Space Aeronomy (BIRA-IASB)