| | |
| --- | --- |
| News & press releases | |
Discovery of abundant oxygen in a comet by Rosetta
28 October 2015 - The renowned scientific journal Nature will publish a perplexing discovery on Thursday October 29th: the European Space Agency's Rosetta spacecraft has discovered – for the first time ever – the presence of oxygen gas O2 in the atmosphere of comet 67P/Churyumov-Gerasimenko.
Moreover, oxygen turns out to be a major component, constituting up to 10% of the comet atmosphere.
Complete article: Discovery of abundant oxygen in a comet by Rosetta
Argon discovered in the atmosphere of a comet, thanks to a Belgian instrument.
29 September 2015 - An article published only recently in the scientific journal Science disclosed Rosetta's discovery of traces of argon in the atmosphere of  the comet 67P/Churyumov-Gerasimenko.
We owe this discovery to the DFMS mass spectrometer of the ROSINA instrument. This instrument, which is carried on board the Rosetta probe, was finalised in collaboration with the scientists and engineers of the Royal Belgian Institute for Space Aeronomy (BIRA-IASB). The high resolution of this instrument enables it to detect two variants of argon (isotopes 36Ar and 38Ar).
Article complet: Argon discovered in the atmosphere of a comet, thanks to a Belgian instrument
ISS astronaut eager to operate METERON rover on Earth
1 September 2015 - In the early morning of 2 September, ESA's Danish astronaut Andreas Mogensen will fly on a Soyuz spacecraft for a short-duration mission of 8 days on board the International Space Station (ISS).
Once on board, he'll get to work inside ESA's Columbus laboratory, carrying out a series of European experiments to test new technologies and operational techniques for future space missions. Belgium is giving operational support for two of them.
Complete article: ISS astronaut eager to operate METERON rover on Earth
The Perseids - watching and listening to falling stars
11 August 2015 - The Perseids - watching and listening to falling stars Like every year, Earth will pass mid August through the trajectory of the dust cloud left behind comet Swift-Tuttle very likely giving us a night sky filled with bright falling stars. The moon will be in a cooperative mood and won't shed its light, thus promising a dark night.
Meteors can also be heard on radio, when transmitted radio signals bounce back on them.
At the Royal Observatory of Belgium, between the prestigious domes, amateur-telescopes will be installed on August 12 to enjoy a beautiful star sky.
The radio receiver from the Belgian RAdio Meteor Stations netwerk (BRAMS) located on the domain will catch the radio signals that mark the presence of the meteors.
Subscriptions for Night of shooting stars are complete. But, no worries, find a dark place outside, lay on your back and enjoy. Late night is the best time.
New cutting-edge project complements our knowledge about planet Mars
July 9th 2015 – To prepare the future ExoMars mission, a consortium of seven European scientific institutions, coordinated by the Instituto de Astrofísica de Andalucía (IAA-CSIC), will develop new analytical techniques to exploit data of existing missions to Mars.
With its internationally recognised expertise in the observation and modelling of planetary atmospheres- BIRA-IASB will undoubtedly be a very valuable project partner.
The European Commission has described the science to be deployed in this project as 'excellent' and has granted funding of over €2 million under the Horizon 2020 programme.
ESA selects THOR and 2 other M4 mission proposals for a study phase - BIRA-IASB is involved
10 June 2015 - In August 2014, a call for the fourth medium-size (M4) mission opportunity was issued in the frame of ESA's Cosmic Vision  Programme with launch foreseen in 2025. ESA received 27 proposals in response to this call, amongst which also THOR (Turbulence Heating ObserveR) in which the Space Physics division at BIRA-IASB is involved. After a thorough evaluation of the scientific and programmatic aspects of all candidate missions, THOR was recommended as one of the three mission concepts to proceed to a Phase 0 study, which is the first official  phase of a mission. In mid 2017, ESA will finally decide which of the three will go ahead.
Design for nanosatellite PICASSO positively assessed
12 May 2015 - To measure the ozone distribution in the stratosphere, the temperature in the mesosphere and the electron density in the ionosphere, the Royal Belgian Institute for Space Aeronomy (BIRA-IASB) is developping the PICASSO satellite, in collaboration with VTT (Finland), Clyde-Space Ltd (UK) and the Centre Spatial de Liège (Belgium), for the European Space Agency ESA.
Just 32x10x10 cm in size, this CubeSat will use:
a miniaturised multispectral imager for atmospheric 'limb sounding' with the Sun as the light source (VISION)
the multineedle Sweeping Langmuir Probe (SLP) sampling the electron density of the space around it
On 23-24 April 2015, the PICASSO mission was reviewed by ESA during a Preliminary Design Review (PDR) collocation at the European Space Research and Technology Centre (ESTEC). Both instruments (VISION and SLP) and the platform were positively assessed during a very intense questions/answers session with ESA experts from different fields.
Complete article Design for nanosatellite PICASSO positively assessed
Comet probe detects the «most wanted molecule»
March 20, 2015 - ESA's comet probe Rosetta has for the first time ever measured nitrogen gas at a comet, providing clues to the early stages of the formation of our solar system.
The measurement was made possible thanks to the high mass resolution of the ROSINA/DFMS mass spectrometer, for which the Royal Belgian Institute for Space Aeronomy together with imec and OIP built most of the detector assembly.
The study was led by researchers at the University of Bern and has now been published in the journal «Science».
Complete article about the first nitrogen detection on a comet
Lecture: Rosetta and comet sciences (in French)
Tuesday 24/02/2015 at 17h00: Cours-conférence: Rosetta et la science des comètes par Johan De Keyser & Emmanuel Jehin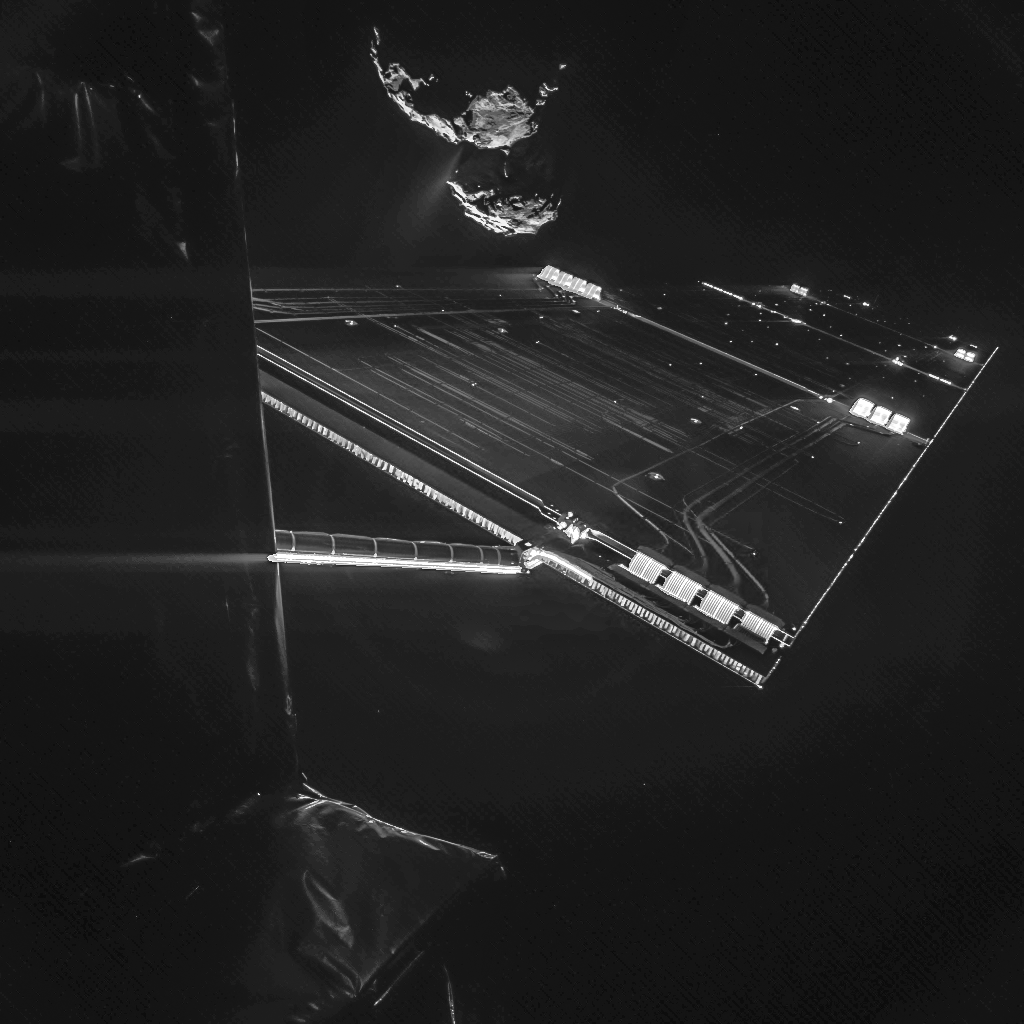 Les objets gelés dans le système solaire attirent beaucoup d'attention : comme des fossiles, ils conservent des renseignements sur l'origine du système solaire.
Ils contiennent du matériel réfractaire (des roches) et de la matière volatile gelée (des glaces). Les comètes se trouvent dans les régions les plus lointaines de notre système solaire...
Lieu:
Palais des Académies Immeuble Écuries royales
Rue Ducale 1, 1000 Bruxelles
Détails sur www.academieroyale.be
Catching A Comet in Science Magazine
23 January 2015 - In August 2014, the European Space Agency's Rosetta spacecraft arrived at comet 67P/Churyumov-Gerasimenko. Once in orbit, it swooped as low as 10 kilometers to get unprecedented data from the comet (and to drop off its short-lived Philae lander). Today, Science Magazine is publishing a suite of new papers detailing some of the mission's first findings.
BIRA-IASB scientists are involved with their analyses of data coming from the ROSINA instrument that measured the coma composition of comet 67P.
These measurements show large fluctuations in composition in a heterogeneous coma that has diurnal and possibly seasonal variations in the major outgassing species:
water
carbon monoxide
carbon dioxide
Other new findings suggest a wide range of deuterium-to-hydrogen (D/H) ratios in the water within Jupiter family objects (based on measurements around the Jupiter family comet 67P) and preclude the idea that this reservoir is solely composed of Earth ocean–like water.
Science Magazine, 23 January 2015 vol 347, issue 6220, pages 349-452
Archive